Local ICT infrastructure solutions provider, BT-SA, is changing the lives of 12 young South Africans via their ongoing Learnership Programme, thanks to a partnership with Award Enterprise Incubator, to recruit, train and place previously disadvantaged and disabled learners.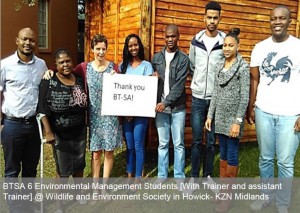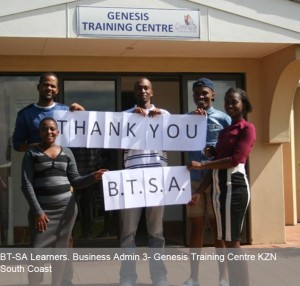 The investment of over one million rand provides six learners the opportunity to study Business Administration at the Genesis Training Centre in the Ugu district of KwaZulu-Natal and another six learners to enroll at the Green Skills Academy in Howick, where they are studying Environmental Management at NQF Level 5. At the end of a 12-month period, all 12 learners will graduate with a SETA-approved certification in their field of study, together with practical on-the-job training and experience that will enhance their ability to find work.
"BT-SA's learnership programme started three years ago when we enrolled 6 of our own staff on a management learnership programme. Award Enterprise Incubator played a very important part and were there to assist and guide us though the process. The results were phenomenal and today those learners form part of our junior management team" said BT-SA Director, Erik Jordaan.
Jordaan explains that BT-SA wanted to extend the learnership programme to previously disadvantaged communities and reach more young people that could ultimately make a difference in the future of our country. The current learnership will change not only the learners' lives, but also those of their families and by extension their communities, and ultimately the country as a whole. To ensure that students are able to subsist while studying, and thus to encourage the completion of their studies, BT-SA pays each student a monthly stipend in addition to paying for their education.
Award Enterprise Incubator's expertise in this area of skills development ensures that candidates are matched to quality courses that play to their strengths and interests, and which frequently lead to careers in areas in which there are skills shortages – thus increasing their employability upon graduation.
"Sue Young and her team from Award Enterprise Incubator also go the extra mile by placing these learners with host companies, where they acquire practical experience in the course of their learnerships, which further improves their chances of finding jobs. That's important to BT-SA, because we don't want to merely throw money at the issue, but rather to make a genuine and lasting difference."
BT-SA has a richly layered Corporate Social Investment (CSI) programme that places children, youth and their education at the centre of its efforts to be a good corporate citizen and achieve its vision of "Helping others in need and making our relationships matter, simply because it is the right thing to do". The company's partnership with Award Enterprise Incubator and these 12 resulting learnerships speaks directly to that commitment.
For more information on Learnerships and Skills Development Programmes contact Award Enterprise Incubator:
Sue Young
Cellphone 082 451 5712
Telephone 012 346 6745
Email sue@awardei.co.za