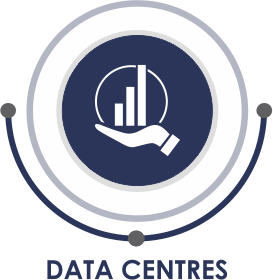 Our qualified data centre team provides end-to-end data centre solutions from design, build and maintenance with cutting-edge technology to suit your business needs.
As data centres are the primary foundation of any business, having high-performance ICT resources on hand is essential if business processes are to work towards achieving corporate goals. Our qualified Data Centre Team is able to design, build and maintain a fully operational data centre with leading-edge technology tailor-made to suit your business needs.
Our design team offers the following services to design and build your data centre:
All designs on Tier 1 to Tier 4 principles and consider EMI/RFI risk management processes

Design and build new generation switching centres, computer rooms, data centres and PABX room

Offer alternative power solutions including UPS, Generator and Solar

Physical security systems and installation of fire detection and suppression systems

Precision cooling designs include up/down-flow, in-row or full containment pod cooling systems

Environmental monitoring and effective infrastructure and lifecycle management solutions

Dedicated project management from planning to implementation of every project.
All projects are assigned a specific Project Manager who is tasked to ensure that the project is all delivered punctually and in line with the projected timeline.
It is also their responsibility to identify, communicate and mitigate any factors that might cause slippage on the project. Our Project Management services include the following:
Documenting existing network infrastructure

Testing and reporting on network infrastructure functionality and integrity

Data centre or network room environmental conditions

Power supply, availability and integrity

Space planning and logical location

Tender specifications